Credit card
Credit card
A credit card allows cardholders to borrow funds from a pre-approved limit to pay for goods and services. When a purchase is made, the cardholder agrees to pay the card issuer and agrees to pay by signing a receipt with a record of the card details and indicating the amount to be paid or by entering a PIN.
For transactions where the card is not shown e.g. e-commerce merchants additionally verify that the consumer is in physical possession of the card and is the authorized user by asking for additional information such as the CVC (card verification code), date of expiry, and billing address.
BIN Ranges
Table 2. BIN Ranges
Brand
Length
BIN range

American Express

15

34xx xxxx xxxx xxx
37xx xxxx xxxx xxx

Diners Club

14

36xx xxxx xxxx xx

Mastercard

16

51xx xxxx xxxx xxxx
55xx xxxx xxxx xxxx

16

2221 xxxx xxxx xxxx
2720 xxxx xxxx xxxx

Visa

16

4xxx xxxx xxxx xxxx

13

4xxx xxxx xxxx x
Parameters
The merchant needs to send CCARD for parameter paymentType.
| | |
| --- | --- |
| | The parameter orderReference becomes mandatory if the Worldline is used as an acquirer. |
According to credit card company requirements for risk minimization, there are two parameters for recurring payments for QPAY Checkout Page and QMORE Checkout Seamless.
The optional feature specific response parameter enhances the functionality and usability of the payment process regarding specific features and functions and is enabled by QENTA on the merchant's behalf.
Order Flow Diagram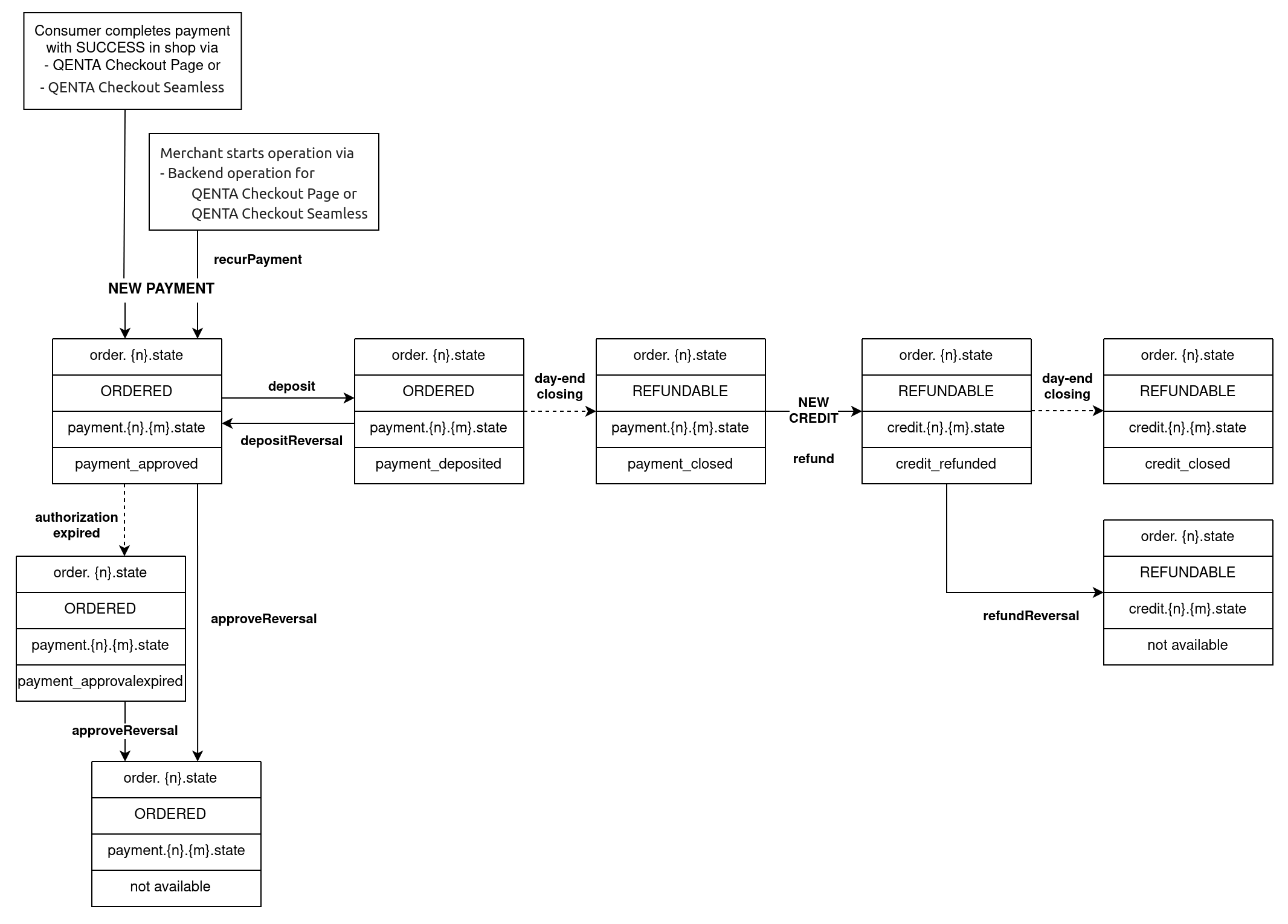 To interpret this diagram, the successful completion of a NEW PAYMENT is assumed. Starting from this operation it's possible to carry out different transaction-based operations.
| | |
| --- | --- |
| | For the explanation of the different status descriptions included in this diagram have a look at getOrderDetails. |
All possible states of transaction for all specific acquirers can be found here.